October 20th, 2016
This month, we're running a special promotion. All orders on Universalvista.com come with a $100 gift certificate good towards your first purchase of wine on NakedWines.com.
Yes, really!
Naked Wines is a company based in Napa, California, that supports independent wine makers from all over the world.
Independent artists and photographers... independent wine makers... it's a perfect match...
When you place an order on Fine Art America, we'll e-mail you a $100 gift certificate from NakedWines.com... instantly. It doesn't matter how large your order is on Fine Art America. If you order a single greeting card, you'll still receive the gift certificate.
Once you receive the gift certificate, all you have to do is visit NakedWines.com, enter in your gift certificate code, buy some wine, and you're done! Then, just sit back and wait for the wine to arrive on your doorstep. If the logistical stars are in alignment, maybe your wine and your order from Fine Art America will arrive at the same time!
Before using your gift certificate on NakedWines.com, please note the following restrictions:
Terms & Restrictions
The $100 gift certificate is only valid for first-time buyers on NakedWines.com and can only be applied towards purchases of $160 or more. You must be 21 years or older to redeem the gift certificate. Wine can not be shipped outside of the United States. Additional restrictions apply. Void where prohibited. See complete details at http://us.nakedwines.com/100voucher. Naked Wines is not affiliated with Naked Winery (http://nakedwinery.com) in Hood River, Oregon.
There is no minimum purchase required on Universalvista.com in order to receive the gift certificate. If you purchase a greeting card for $5, for example, you'll still receive the gift certificate from NakedWines.com - yes, really!

February 28th, 2012
In about 100 shots, this is the only one with droplets on top, which was my intended final result. Why? Because I knew some people might jump to conclusion too early and said "they are jello" without further consideration, if there is no droplets in the shot.
No, of course they are not jello, they are real splashes. The high speed flash froze the action.
How to make harmonic action like this? First of all, you need two MDF board and mount one piece on top of the other one with drawer slides. Then you need to install a spring (or strong bungee cord) in between two boards. When I pull the top board leftward, the spring will be energized. When I release the top board, it will be pulled by the spring and quickly moves all the way to the end. The sudden stop at the end will create a splash for any wine glass glued to the top board. I glued all five wine glasses on a piece of reflective board for the reflections. For better adhering, sanding the bottom of the wine glasses and part of the reflective surface is helpful.




Mess and clean up:
After each shot I used foam brush to clean up the table top and used Q-tips to clean up the inside of the glasses. This procedure makes my next shot clean and easy for post processing.

Lighting setup:
To freeze the action of splashes, the white background has to be illuminated by flash with fractional power. I used one single flash for this.




The colorful liquid:
The colorful liquid was made possible by using the following products

January 31st, 2012
William's photo captioned "Bad water basin" captured in Death Valley National Park (see attached image) is now under voting phase (dated 1/16/2012 to 1/31/2012). Please support and vote his photo. You may win $100 by voting daily.

Voters are allowed by official rules to get one token per day in sweepstakes by means of voting daily.

How to vote for William: After finish one time registration, you can login with your email address daily and select western region gallery on the USA map. After the gallery loaded, click "next" to jump to the page 2 of 4. William's photo is the lower right one. Just click the photo to open it. You will see the "Vote this photo" button on the right side of the photo, just click it and vote. That's it. The "vote this photo" button will disappear for one day after you clicked it. The link for registration is here.

The direct link for "Bad water basin" is here. (View photo only, no vote button without login.)
Please also consider the "Send A Link" button for this photo.

Thank you very much and good luck to all of you!

LIKE this page to show your support:

April 10th, 2011


Yesterday was the only one precious sunny day for the whole week. I carried two video cams and multiple mount harnesses and bought a lift ticket, then shot the video for whole day. After transferring all the video clips into my computer, I used Corel Video Studio Pro X4 to edit and add music. The max resolution is 720P. hope you like the video, enjoy!
February 27th, 2011
Life is like a journey, sometimes you are lost; sometimes you find surprises; sometimes you are not satisfied with the last place visited and looking forward to arriving the new destination.

This photo was taken at Cannon Beach of Oregon, USA. I used Infrared filter on Canon EOS 7D to darken the sky and slowdown the shutter speed so the subject was emphasized.

The challenge was viewfinder became too dark and the meter would not work. I used tripod and estimated the exposure compoensation according to multiple experiments.

December 10th, 2010
I just purchased two magazines on which my photos are published.
First one is National Geographic Dec 2010 issue. The snap shot of cover page is


The snap shot of the page with my photo is the following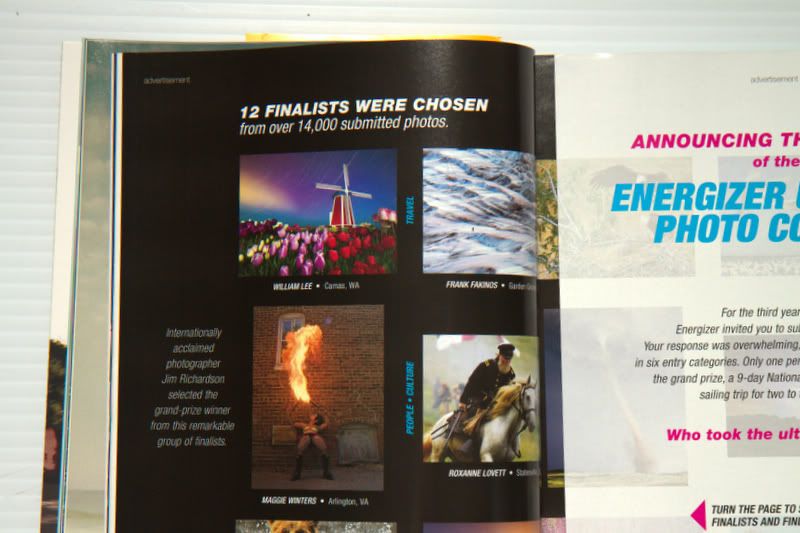 The second magazine is Outdoor Photographer 25th Anniversary issue Dec 2010. The snap shot of the cover page is the following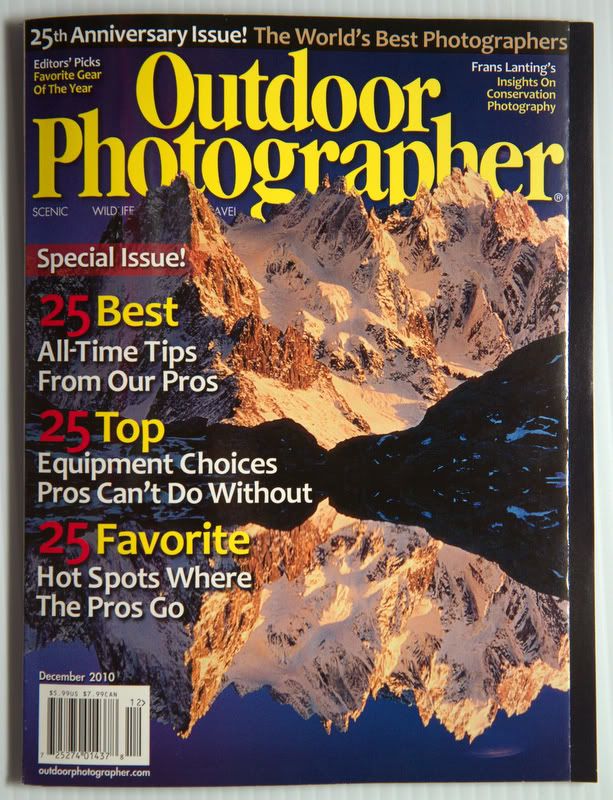 The snap shot of the page with my photo is the following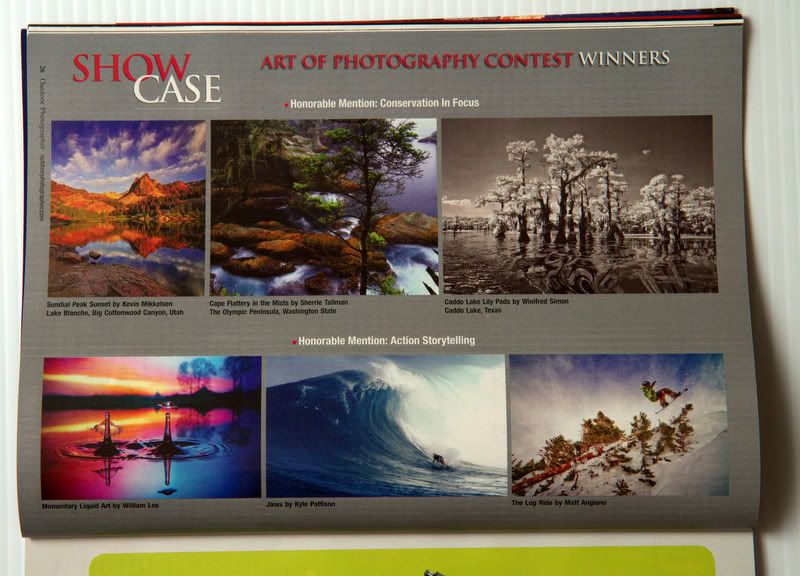 The published artworks are here